There are many ways to approach this. I will point out an easy way, whereas one has to see, that this is a computer based one, which is not the only way to go, but the one of the most efficient. You can start to make music with points 1, 2 and 3 the rest is optional. I list here a logic, and in my eyes, smart order of buying equipment, having a low budget in mind.
The first thing you need: a strong personal computer.
What is strong? We really have the luxury now that we can say, that almost every computer you can buy today is fast enough. Not counting useless netbooks though. But faster is (of course) always better or lets say at least more convinient. Even what you can achieve with an ipad is impressive.
Here some more or less timeless smart things to consider when buying or building a computer especially in the windows world:
If you build one yourself never spend more than about 350 Euro for the CPU. Those which cost more than that are new and overpriced. Buy at least 8GB (2014) of memory and realize that you HAVE to use 64bit OS to make use of that, choose silent harddrives. Calculate the best "price per gigabyte" ratio (divide the prize by the gigabytes) and go for the hardrive-size with the lowest price per gigabyte.
If you go for a motherboard choose known brands and intel chipsets, google for reviews for the board of your choice and look what they say about stability (I prefer Intel and Asus mainboards). Furthermore go for a Graficcard with two outputs and passive cooling, don't pay more than 120 Euro except if you want to play games. At any time since 2006 you can build or buy a good music computer for 600-1000 Euro. Spending more than that is often not efficient since you pay too much for needless "new" technology.
If you go for a laptop go for known brands. Dell is cheap and mostly good, Sony is very good but expensive, Asus, Toshiba, IBM Lenovo are quality too. Read reviews, all sometimes release crap. For sure buy a silent notebook, make sure you test it when CPU is in full use, because notebooks only reveal their noise when they get hot.
If you want a mac you can make do with a MacBook Air (choose one of the quicker models) or also with a mac mini. I use an iMac and it's working very well. Basically if you get a mac i doesn't really matter what you buy. It all works well. You can go back to 2012 Models with no problems in the second hand market.
Pro Windows:
Cheaper hardware, big choice in hardware.
Pro Mac
Audio and therefore stability for audio is deeply integrated into the operating system. Out of the box stability.
Some very good audio- hardware and software exists only for mac, like some UAD and all Apogee and Logic.
64bit Out of the box
Contra Windows
It's really not designed for audio. Perfect stability needs tweaking.
Contra Mac
Hardware is more expensive than comparable windows machines. But this comes not down to "value for money" really. Macs are more expensive, but you have very good building quality, good service, cheap or free os updates and high resell value. In the long term it works out well, but the negative point is, that it's harder to get into the system.
Reasons that do not apply to either windows or mac but are often used as arguments in such discussions:
Cracked plugins are available for both systems
Build quality of mac machines is very very good, but you get this for windows too. However the price then is very similar.
Major parts like memory and harddrive of macs machines can be exchanged with 3d party components just as they can with windows.
Since I don't have time to tweak my computer so it's stable, like to think in long terms and prefer to have a computer for many years instead of switching it (or parts of it) every second year I decided for mac. (After being a 10 year windows user)
Music Software is the main piece of your setup
When it comes to software it gets difficult. I will only give a surfacial overview. Using it is a completely different story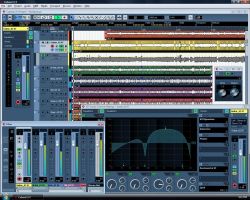 . Most popular DAW-Software (Digital Audio Workstation) are Cubase, Logic, Ableton Live, Cakewalk Sonar, Studio One, Reaper and Fruityloops. They are all good, its a matter of taste. You can get free versions of a program called "Samplitude" with some magazines like the UK based "CM Computer Music". Buy this magazin once and you have a complete software package to start. Including virtual synthesizers and effects, called "plugins". You get more free software for Windows than for Mac, by the way.
All the above software can be extended by so called "plugins". These plugins work like independent pieces of equipment WITHIN your main software which could be seen as your virtual studio. Plugins can be soundshaping effects like reverb, delay, chorus, phaser, flanger, overdrive etc. or they can be virtual synthesizers.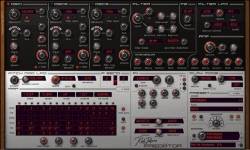 It is totally normal to own a lot of such plugins in addition to your main software. The good thing is that those plugins work in all the mentioned software above. There are plugin standards like "VST" for PC and Mac and "AU" for Mac only.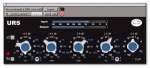 Most of the software above is available cracked (illegally free) for PC and Mac. Please, please, buy software, I personally know people who created great plugins which are used by 1000s of people but he only officially sold about 30 pieces! You need to realize that if you don't buy plugins the market will lose diversity AND quality of products and this is bad for all of us. Small companies stop creating plugins at all, big companies focus on mainstream and have less ressources for experiments, support and perfection. Same goes for music by the way.
A soundcard (audio interface) with low latency is the next thing you need
latency is the time that passes from the moment you create a sound in the computer till it actually comes out from the soundcard. The shorter, the better. This is only important if you want to use a keyboard to play melodies and rhythms. If you write all your melodies and rhythms with the mouse on the screen it doesn't matter what latency your soundcard has. For MACs the internal soundcard is enough to start. If you need inputs for guitar or microphone or use a laptop you can get an external USB AudioInterface for around 100 Euro. I recommend Native Instruments Interfaces for beginners.
Last but not least: A pair of good speakers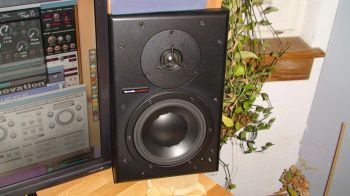 Basically you can use any average speakers you like if you know the strengths and weaknesses of your speakers and can make your music sound as good as reference music on your speakers. Still, having bad speakers for musicproduction is like having a black and white screen for photoprocessing. First take what you have got, your homehifi or a pair of good PC speakers in the pricerange of 100-200 Euro will do. Then safe your money and leave out all the semiprofessional musicproduction speakers in the pricerange from 200 to 900 Euro per pair. From 900 Euro up it becomes interesting. I personally like Dynaudio BM5a and BM6a as well as the Genelec 8030APM but there are many very well other speakers. They are all active (means they are self powered) which I prefer, but you can also buy a passive version of f.i. the Dynaudios and then use a good amplifier with them, this will be a bit worse but also cheaper. But for sure go and LISTEN to them yourself. Bring own music which you know to the shop. The good thing, and the reason why you should spend enough money here: If you find out that making music is not what you want, you still have a pair of great speakers, and you wont stop to listen to music, will you?
A Midikeyboard / Controller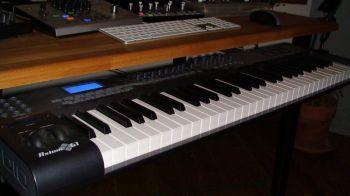 It surely depends on your personality, but a MidiController or Midikeyboard can highly influence your creativity.
To enter melodies and rhythms into the computer and to move the virtual knobs of your virtual synthesizers you have two possibilities: You can use the mouse of your computer or you use a Midikeyboard / Controller
It is clearly not very intuitive to use the mouse to write a melody or a rythm. If you want to manipulate sounds by turning knobs of virtual effects or synthesizers you have to click and drag the knob and therefore you can always only manipulate ONE function at the time.
Some people can live with that without problems. But some people, like me, need to touch things, need to be able to manipulate several things at the same time and need to actually PLAY a melody or rhythm on the keyboard or with drum pads. For those people there are Midikeyboards and Midicontrollers (of course one device can be both). The picture above shows a Midikeyboard which also has controller knobs, buttons and all on the right even some pads to enter drumrhythms. On the left you see a mere Midicontroller.
The more knobs, buttons and keys you want to have, the more expensive it is. Normally the devices are connected via USB. You can get a simple Midikeyboard with two ocatves (24 keys) for less 100 Euro. Prices go up to 600 Euro. I think Novation does quite nice things, but there are really so many good and interesting controllers.
A Hardware Synthesizer
Sure it will give you good sound, reliability, safes CPU ressources, intuitive control and a lot of fun. But is absolutely unneccessairy since today synthesizer plugins like all Spectrasonics, Waldorf, Vanguard, Arturia stuff, Native Instruments, Sylenth and many more give you great sound out of the box. I really like Access Virus and Clavia stuff for its unique sounds or of course REAL analog gear like old Roland etc. But this is really all luxury and you might want to go to the next point first. If you get a hardware synth it might make sense to get something analog, since that is really the only thing the computer can not do.
A DSP-Card
A DSP-Card is a device to connect to the (or in the) computer, which will do the work for the computer when you use specific plugins. A DSP-card will only work with its own plugins, this sounds restricted but for the DSP-cards you get extra highquality plugins. This will safe CPU power and provide you with exclusively sounding plugins only available for the DSP card. Most famous are UAD-2, Focusrite Liquidmix. Don't buy internal stuff like the one in the pictures. Get an external one. Pci is dead.
A better Audiointerface.
Once you got everything else you may want to buy a better audiointerface. If you still have the soundblaster or original soundcard from the mac it is really time now. Maybe you already have somthing nice like NI Kontrol, in this case buying a "better one" is actually only a point if you aim for external hardware equipment like synthesizers or want to record several microphones. Those will need to be connected to the computer. Each of its outputs will need an input in your soundcard, so you may want to buy a soundcard with more inputs. Preferably 6 to 8 analog inputs and 4 outputs. Or you just want higher quality with few In and Outputs. If you are on mac, get an Apogee.

Finally other external hardware.
Like Compressors, EQs, good Preamps (for Mics), Reverbs etc. Maybe maybe… and for sure expensive ones since all the cheap stuff can be done with good plugins anyway. 1000 Euros and up is the prize range which actually has a chance against UAD, URS or Voxengo plugins. I think only analog gear makes sense here, since everything digital can be done by the computer.
[fusion_widget_area name="avada-slidingbar-widget-1″ title_size="" title_color="" background_color="" padding_top="" padding_right="" padding_bottom="" padding_left="" hide_on_mobile="small-visibility,medium-visibility,large-visibility" class="" id="" /][fusion_widget_area name="avada-custom-sidebar-socialshare" title_size="" title_color="" background_color="" padding_top="" padding_right="" padding_bottom="" padding_left="" hide_on_mobile="small-visibility,medium-visibility,large-visibility" class="" id="" /]