Album: Gfuehlsweid (Meadow of feelings)
For three years Subconsciousmind worked on his second Psychedelic Trance album "Gfühlsweid" which translates "meadow of feelings". The result is an exceptional album, that takes the listener to a fantastic trip to himself.
If you let it happen, Gfühlsweid gives you the chance for an extraordinary musical experience, that leads you into forgotten, hidden corners of your soul and into an encounter with your own inner world. It's music that wants to fulfill it's purpose independent from styles and categories: to give supporting help in the human's examination of himself and his feelings.
Subconsciousmind combines a strong and solid bass- and beatfoundation with beautiful, unintrusive melodies and sophisticated, interwoven, nested and partially wonderfully simple sounds. The whole album touches with it's singular game between tenderness and strength, reticence and intensity, the silent turning to inner spaces and an overwhelming, sparkling love of life.
"Gfuehlsweid" is an invented word and translates "meadow of feelings". It was after an openair party somehwhere up in the swiss mountains, where cows where eating grass on a meadow nearby. A friend then thought that while I was playing live, the people on the dancefloor became like happy cows eating juicy grass on a meadow of feelings.. and that's how he, Jerome, invented that word. 🙂
Coldness, 10:33, 140BPM
When I made this one I wanted to find out why some people make such cold and hard music. What came out is a song that expresses the lonelynees I feel when I listen to such music. The song became a bridge between this sort of music and my music. Often things that seem hard and cold turn out to be beautiful and vulnerable. Never judge a song before you listened to the whole one.
Inner Struggle, 9:33, 143BPM
I like it very much. This was the hardest work, I worked it over and over. What am I struggling against? Finally I found out that there is no reason to struggle.
On The Edge, 10:18, 140BPM
Some things, sometimes, for some, seem not big or important enough to mention. But little things still can sum up and one day break through the surface…
Death Experience, 9:30, 143BPM
I made it within a week, dreamed how to arrange it and didn't change it till today. If you have ever lost somebody you loved, you'll know what this one is called like this.
Mood Converter, 9:30, 143-145BPM
That's what it does when I listen to it. It took me a long time till I had the arrangement for this one.
Childhood, 5:51, 143BPM
To me, being adult neither means to stop showing feelings nor to stop being playful. Keept the child in you. Don't become boring. (This one developed from "The strange one" on the album "unprofassional".)
Spring Feelings, 6:57, 143BPM
The name says it all. The first song I made for this album
Release, 10:03, 140BPM
If you don't know any further: release!
All songs written and produced by Raphael H. 2000-2003 @ SCM Soundlab
Mastered by Raphael H.
Coverartwork by Raphael H., CD-Label painting by Andrea Pfeifer
Prerelased 2003, Finalrelease 2005
"Gfühlsweid" is made up from two swissgerman words. Translated to english it means: "meadow of feelings".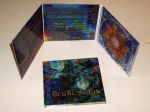 The whole album and every song on it, is a psychedelic and emotional journey into our inner world, but the concept of the album is, that everybody experiences the songs in a different way. How you feel it, how I feel it, it's all subjective. You probably experience the emotions of a song in a way that would make you give the song a completely different name than I did. Therefore the listener is asked to give OWN names to the songs.
There are empty spaces on the CD to write in your own names to the songs.
Listeners reported that listening to the album in one go caused a very positive effect on their psyche because the album led them to hidden corners of their heart and soul which made them feel better in the end. Someone even called it a "therapy without words". I suppose that, to experience this, it is necessary to be open and willing to confront one self also with probably unwanted emotions.
From a musical, emotional point of view this album was the very best I could do at the time of making it. I went as deep into my own subconscious as I could and brought up the most important feelings, experiences I have ever had. Sometimes I believed I could never make something this essential and personal again, since what I expressed on my album "gfuehlsweid" was accumulated over my whole life, at that point, of 26 years. You are the judge if I was able to outgrow myself on Symphonies of Life
This is the second SubConsciousMind full length release, but I consider it the first true Album. It was created from 2000-2003. In order to finance the mastering and the final release there was a prerelease in 2003. The official commercial release was in 2005.
I highly appreciate any support. Spread the word by liking, sharing etc, book me for a live act, recommend me to be booked or just send me some feedback or leave a comment bellow.
Surf the website while you are downloading. There is a lot to discover! 🙂
You can for example listen and download my 2009 release too: Intermezzo Extended
Here some collected voices from forums, party reports, guestbook entrances, emails:
…subconsciousmind is in a class of his own. I don't know any other artist, who gives so much depth and emotion into the psy. a colorful trip through the human psyche, with all it's facing, from playful childhood to the pain of loss and the longing for higher things. the whole album sounds fresh and spontaneous. it's obvious, that the artist doesn't produce for the people on the dancefloor, but COMPOSES music. for me the creme de la creme, the beethoven of the psychedelic trance, so to speak. thanks raphael for this ingenious album…
(mysticalforum, June 04, translated from german)
…a really nice and special album. Wonderfully melodious and filled with emotion, you really hear in every single track that the music was made with heart and soul. I join deepe2r well's statement: Beethoven of the psychedelic trance hits the nail on the head…
(mysticalforum, june 04, translated from german)
…the best I got to know this year, certainly! I agree to what deeper well wrote, there's nothing more to say. A very talented musician, you can hear the light in his soul. Fiin (fine)..;)…
(mysticalforum, june 04, translated from german)
I personally like the structure, how subconciousmind plays the rhythm of the tracks, incomparably. I think you can hear that he gives a lot of time and love into his music. The whole live act had a very good frame. When I listen to his music I find the prove of what music can activate in a human being. The music touches the most hidden places in my heart and produces an incredible happiness…"
(report after the party "orodruin", translated from german)
…as the night slowly became day a certain subconsciousmind stepped behind the levers and gave me with his devine sound one acoustical orgasm after the other, it still shivers gently down my spine when I think of it. My deepest respect to a human being who tickles such music out of his instuments…"
(report after the party "microdom", translated from swissgerman)
…I hardly know any act who sets free such a warmth, that you almost forget to dance because of the dreaming…"
(in the guestbook of the subconscious website, translated trom german)
Major target while writing and porducing the songs was to express feelings as genuine and accurate as possible. Because of this to fit the style "psychedelic trance" and to deliver a perfect, crystal- polished production was only second to me. Furthermore all songs were written for REAL live performances, which means no personal computer with software like cubase or logic was used. This is not usual in that genre and means to lose a lot of technical possibilities. But on the other hand I was able to play and heavily adapt the songs live according to the reactions of the audience and my own mood which I find absolutely essential for emotional music.
The following equipment has been used:
Mixer: Yamaha 02R
Synthesizers: Roland TB-303, Access Virus, Clavia Nord Modular, Roland SH-1000.
Effects: 2 x Alesis MidiVerb 4, Digitech StudioQuad, Subconsciousmind self made.
Sound processing: TC Electronics Finalizer, TL-Audio C1, SPL Tube Vitalizer MK2.
Sequenzer and Sampler: Akai MPC-4000.
Speakers: Dynaudio BM6A
Computer Software: Wavelab with waves plugins and grm tools, for mastering and samples processing.
Someone who knows something about these machines can easily tell, that the problem of the setup is first of all that none of the effect units is able to produce decent reverbs and second that there is no mulittracker software or machine being used. The second makes it very difficult to perfectionize the arrangements.
Basically the MPC-4000 was playing loops with a length of approximately 16 Bars. Each song is based upon 5-10 such loops. The MPC-4000 plays the loops with all tracks on and I used the mixer to fade in and out elements of the songs and the "next loop function" to go to the next loop as soon as I want it. Furthermore, of course, I was tweaking the sounds live with the synthesizers. This way all my songs were arranged and manipulated live. Also for recording the CD there was no preprogramming possible. I had to record a song up to 50 times, till I had the perfect feeling of the song. Actually there is no difference between my live playing and what I did while recording for the album. Even more! During live performances I can usually get more feelings out of my songs than you can hear on the album, it depends the atmosphere and mood of the party.
[fusion_widget_area name="avada-custom-sidebar-socialshare" title_size="" title_color="" background_color="" padding_top="" padding_right="" padding_bottom="" padding_left="" hide_on_mobile="small-visibility,medium-visibility,large-visibility" class="" id="" /]